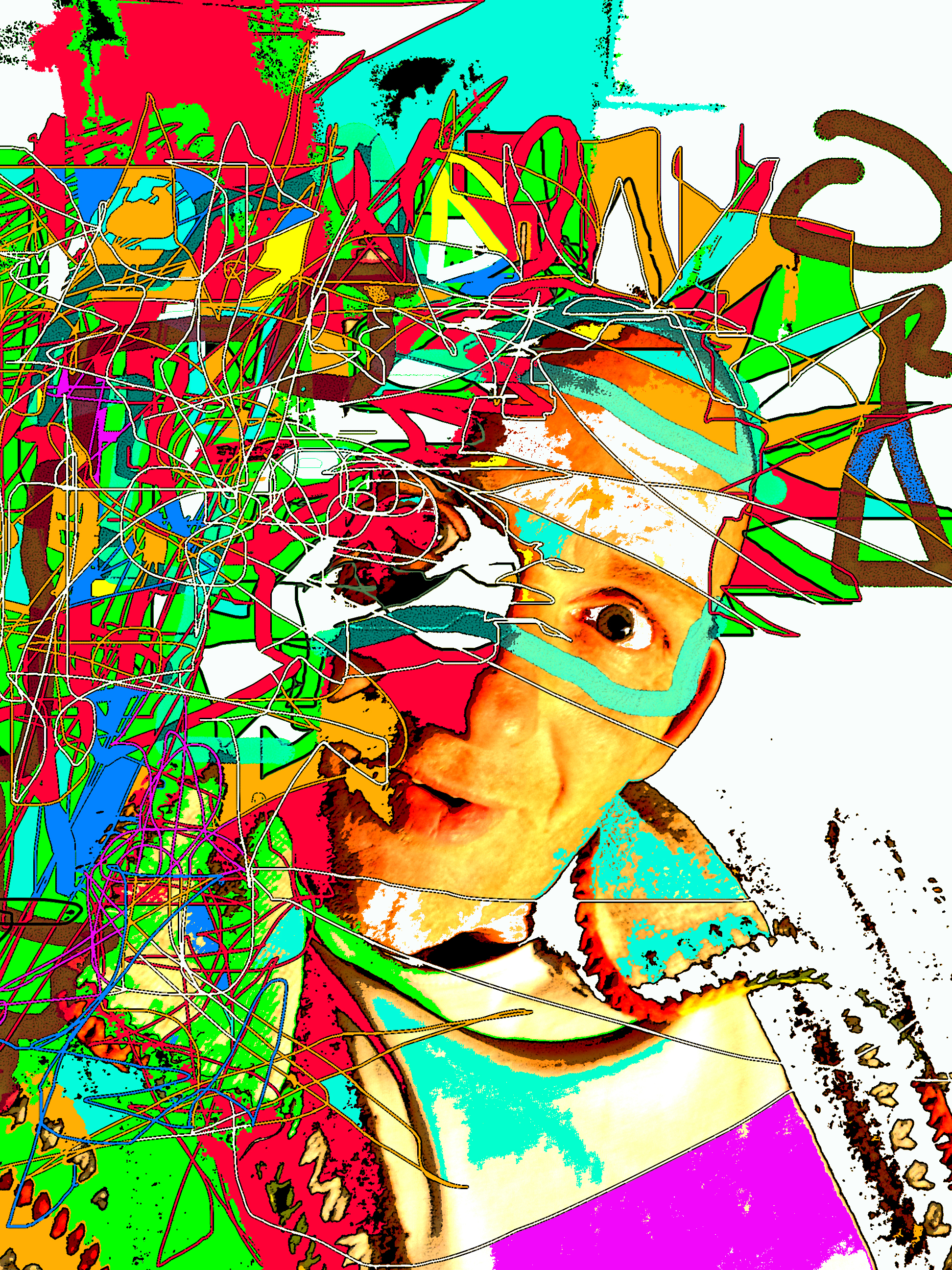 http://christiancantos.com/autoportraits-numerique
Born on November 30, 1967 in Quebec City, Christian Cantos lives and works in the French Lorraine region. His training began in the 1970s in Elbeuf with the painter Michel Leclerc (1934-2004). Cantos continued in the 1980s at the Maison des Arts in Evreux.
In 1998, he abandoned the oil for acrylic. Sometimes, he uses mixed techniques (inclusion of photos, printed images or papers). His works are mainly figurative (rare abstract works).
Cantos created a particular universe of standardized or stereotyped characters (man in overcoat and hat, naked or short-clad sylphide, dancer, musician). The robot has long been a part of it. The environment of beings or objects is mainly composed of urban landscapes treated summarily, even barely suggested or confined to abstraction.
His style is often close to that of comics. It is distinguished by structuring the image by means of a total or partial mesh of lines and angular shapes, of variable density. This original way produces a mosaic effect more or less asserted that often reinforces the low contrast of tones between the geometric units. The shapes are simplified and the figures stylized.
The work draws on three main sources. First come the apocalyptic or biblical writings which constitute an important recurrent reference and the ferment of an ethical reflection. Then, it is the trials of ordinary life that inspire the painter. In particular, he draws images of his own existence. Finally, the main questions raised by the current evolution of the global society are regular.
Cantos is also a singer-songwriter. He created a multiple work entitled "The Quest" consisting of a short story complemented by twelve canvases and twelve songs.
Individual exhibitions in the gallery including Beaune, Berlin, Brussels, Luxembourg, Paris, Rossignol (Belgium), Venice and Virton. Permanently at the Galerie du Comble in Virton. Works in the collections of the Gaumais Museum (Virton).

Alain Rezette